The Democrats will soon achieve political hegemony in an age of radical polarization. It probably won't end well.
Introduction
On November 3, Joe Biden should comfortably win the Presidency of the United States, earning between 325 and 375 Electoral College votes, matching Barack Obama's results in 2008 and 2012. In an age of polarization—and in light of Trump's tremendous popularity among Republicans—Biden's victory will be viewed as a "landslide" and national denunciation of Trumpism. Demoralization and confusion among the Republican faithful will follow.
In addition, Democrats should take control of the Senate, with a tight majority of 51 to 49. More than one Republican stalwart and Trump ally will be sent packing. In the House, Democrats will maintain dominance. The "wave" election already occurred in 2018, and, to a lesser extent, in 2016. This year will be about consolidation, not conquest.
Inertia is the most powerful force in politics. Some 75 percent of all House races are uncompetitive "slam dunks," and we can expect incumbent Congressmen, especially members of the House, to be re-elected at a rate around 90 percent. But after multiple cycles of consistent gains, on January 20, 2021, the Democrats will stand in the same position the Republicans did four years earlier: they'll have the presidency; they'll enjoy a House majority in the realm of 235-250 members, and a narrow margin in the Senate. A 25-year era of mostly Republican leadership in Congress will be supplanted by a new "Blue Period." This is the result of seismic demographic, geographic, and attitudinal and psychological shifts. But ultimately, the 2020 victory will paper over deep problems for the Democrats, which will likely lead to an unhappy presidency for Mr. Biden.
This essay will explain my forecast, but, more important, it will assess the structural basis for the coming Democratic dominance, and expose fault lines that make doing politics, even for a hegemonic party, exceedingly difficult.
In 2016, Trump was not just the candidate of right-wing populism but "chaos" as well, to borrow an insult from Jeb Bush. Trump ran against his own party, its leadership, and quite a bit of what it held dear. Biden, on the other hand, has run a bi-partisan campaign on the promise of a "return to normalcy."
"Normalcy" means ending the Trump experiment: the outrages, scandals, wild talk, and nationalism. But it also means keeping at bay left-wing energies—"wokeness," BLM, and democratic socialism—that are now motivating a great deal of Biden's voters. Biden's experience in the Democratic primaries was about survival, not triumph, and it was only possible through the intervention of party luminaries at the 11th hour. Biden has a long history of being extremely "un-woke," and his Clintonian policy proposals are simply out of step with the majority of Democratic activists and operatives, if not high-level leadership and donors. Thus, Biden is caught in a pincer, and there is a strong chance that he will be undermined early on by forces within—perhaps even given a rude comeuppance.
Moreover, it is becoming questionable whether America is governable at all. We will soon be in a remarkable situation in which the once-and-future party of political hegemony, the Democrats, will be governing a population that has undergone radical polarization and division. In the new Blue era, the Democrats will struggle for legitimacy, not power. That can't end well.
1. We Just Hate Each Other
Biden's coming victory must be put into perspective. The era of monumental landslides—when one candidate captured a unified national mood—is past. The last time a candidate won more than 500 electoral votes was 1984, when Ronald Reagan came close to matching Richard Nixon's 49-state domination in 1972. Barack Obama's comfortable victories in 2008 and 2016—or George W. Bush's 2004 win as a "stay the course," wartime president—never approached the famous wipeout elections of the 20th century.
Our era is one of fragmentation, which has led to stasis and rigidity. Voters are "polarized," in the sense of being frozen in place. You simply are Red or Blue. And they're ain't no doubt about it.
One some level, Red/Blue politics has eclipsed race, ethnicity, and religion as the source and marker of identity. When polled, Americans who strongly identify with "conservative" or "liberal" are skittish about the prospect of family members marrying someone of another political affiliation. A hardcore conservative worries more about his daughter marrying a Democrats than a man of a different race. "Look who's coming to dinner," indeed.
There are, I should point out, some key issues of remarkable national consensus. At least in 2018, a majority of Republicans supported a national healthcare system or "Medicare for All," a program touted by Bernie Sanders. That said, on a host of meta-political topics—like inequality, racial discrimination, and the environment—gaps between Red and Blue are only widening. The parties themselves have become hostile nations with closed borders. This is demonstrated in a longitudinal study by the Pew Research Center covering the past 25 years. In 1994, 64 percent of Republican voters were "to the right" of the average Democrat on a host of basic issues, with considerable overlap. Put another way, the average Democratic was "to the Right" of one-third of Republicans. By 2017, the "center" had vanished. Effectively all (95-97 percent) Republicans are "to the right" of Democrats and Democrats, "to the left" of Republicans.
Some old-timers still wax nostalgic about a bi-partisan era long ago, when both parties would roll up their sleeves and get things done for the American people. The reality is, compromise and collaboration are simply impossible when there is no common ground.
Polarization tracks with religious divides. Mormons and evangelical Protestants are overwhelmingly Republican. And to no one's surprise, self-identified atheists are liberal to roughly the same degree as fundamentalists are conservative. Polarization is also strongly regional—a phenomenon known as the "Big Sort." Blue states are clustered on the eastern and western seaboards, and states containing large metropolises tend to be Democratic. Texas and Georgia are notable Southern exceptions. Polarization also marks the intersection of race and class, as Republicans have gradually become the home of the White working class—those without college degrees. (I'll explore this in more detail in the next essay in this series.)
In 2004, George W. Bush defeated John Kerry by a close score in the popular vote, 51-48. But mapping the election county-by-county tells a very different story. The entire Heartland and South was deep Red, with some Blue outliers in predominately African-American districts and urban centers. Someone in, say, Casper, Wyoming might not know another soul who voted for John Kerry, to paraphrase the infamous quip by Pauline Kael.
2004 Presidential Election, County-by-County

Polarization is even more radical than elections would lead you believe. Terms like "secession" and "Civil War 2" are in the air. A Reuters-Ipsos poll conducted from November 2016 through January 2017 found 22 percent of respondents supporting the state they live in "withdrawing from the USA and the federal government." Support among non-Whites was even higher, at 29 percent, with less than an outright majority opposed and the remaining quarter of the population, unsure. Some 40 percent of both Democrats and Republicans openly tell pollsters that political violence is justified "a little" if the other guys win.
Both the QAnon conspiracy and "Russian Collusion" narrative (which led to Trump's impeachment) are factually dubious but true to the prevailing Zeitgeist. For QAnon, the Democrats aren't just wrong, they are, literally, Satanic, blood-sucking pedophiles. The mass media ("fake news") is only there to distract the public from Trump's noble crusade against evil. On the other side, "Resistance" liberals say that Trump is in Vladimir Putin's pocket, effectively reviving a Cold War-era ghost story about a "Manchurian candidate," once the bugbear of right-wing fanatics in the John Birch Society. Trump doesn't just want better diplomatic relations with Russia; he is, in fact, a tool of a Slavic autocrat bent on world domination.
Marianne Williamson captured the mood, as only she can.
Don't tell a black person they're never in danger of being arrested for no reason; don't tell a Jew they'll never have to worry about being rounded up; and don't tell a woman she's never being underestimated because of her gender. We know better. Ancestors don't lie.

— Marianne Williamson (@marwilliamson) October 21, 2020
What is key here is that both Reds and Blues view "the other," not as an adversary, but as a demon or tyrant. Why debate or find common ground with someone who wants you thrown in a dungeon. It's kill or be killed!
2. Projecting the Presidency
Radical polarization is disturbing—and it might foretell an eventual breakdown of the United State, as unthinkable as that might sound. But for our limited purposes here, polarization means electoral stability, and that means that four out of every five states in any presidential election can be forecast years in advance.
For yet another cycle, a dozen or so states will determine the outcome of the presidential election: Arizona, Florida, Georgia, Iowa, Michigan, Nevada, New Hampshire, North Carolina, Ohio, Pennsylvania, Texas, and Wisconsin. The other 38 are not likely to produce surprises. Texas and Georgia are two remarkable additions to this list, as both have been reliably Republican since 1996 and are thought of as bastions of conservatism. Among the 12 states in play, three—Ohio, Florida, Pennsylvania—will prove most important, since they are populous and polling has been both close and volatile. Mainstream forecasters (The Cooke Political Report, The Economist, FiveThirtyEight, and the New York Times) are consistent on this assessment.
2020 Presidential Election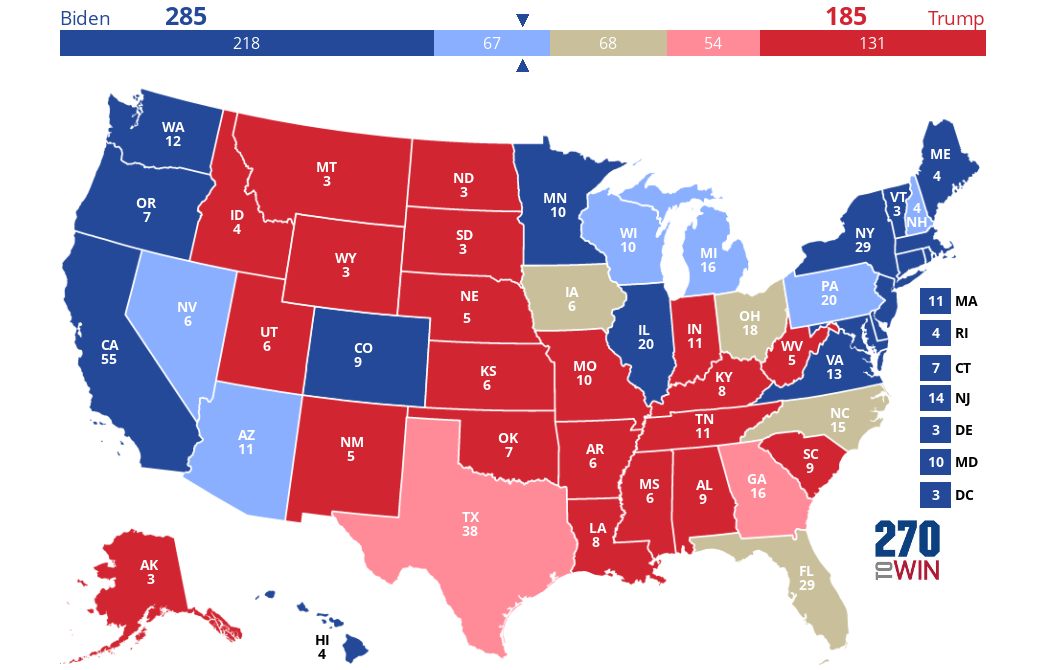 Click the map to create your own at
270toWin.com
Joe Biden's advantage immediately jumps to the fore. Taking the 38 non-swing states as "givens," Biden will begin election night carrying some 215-225 electoral votes; Trump, only around 125. Of the dozen decisive states, half of them are leaning towards Biden: Wisconsin, Pennsylvania, Nevada, Michigan, New Hampshire, and Arizona. Only Texas and Georgia are significantly leaning Republican. This leaves Florida, North Carolina, Ohio, and Iowa as the "tossups among tossups." The problem for Trump is that Biden does not need to win all of the Democratic-leaning tossups to reach 270 electoral votes, and thus an Electoral College majority. In other words, for Trump to eke out a victory, he must hold Southern stalwarts like Georgia, Florida, and Texas and win at least a couple of the Midwestern states (Iowa and Ohio, for example), which formed his unlikely "Rustbelt strategy" of 2016.
This is simply too tall an order. A victory for Trump—based on, say, winning Michigan, Pennsylvania, Ohio, Wisconsin, and Florida—would already be reflected by polls suggesting a Republican wave. We don't see this. Biden has maintained a comfortable lead in national polling in the area of seven-to-ten points for months. This is significantly higher than Clinton's lead over Trump throughout the summer and fall of 2016, which hovered between one and six points and was trending towards deadlock. Numbers on early voting foresee a dramatic, multi-fold increase of turnout among young people (18-29)—a group that skews heavily towards Biden.
As they say in the NFL, any team can win on "any given Sunday"—and that rule holds for Tuesdays, as well. If, say, Trump secures Florida (with its 29 electoral votes), then his chances of pulling off an upset increase dramatically. But we need to remember how astounding Trump's win in 2016 really was. In the Electoral College, Trump beat Clinton handedly: 304 to 207. On a state-by-state basis, however, his margins were razor thin: Trump won Florida (a state of 22 million) by 100,000 votes; he won Michigan by a mere 10,000. Treading such a precarious, narrow path to victory one more time is too much to ask of any candidate. And demographics in those states are clearly moving in the wrong direction.
Change in voting-age population, 2016-2020
3. Letting A Good Crisis Go To Waste
America might never again see a truly "national" statesman, that is, a man who transcends party and policies, and is widely viewed as the right guy to take charge in a crisis. After 1932, Franklin Delano Roosevelt seemingly couldn't lose, consistently boosted by his resolve in the Great Depression and Second World War. Since then, wartime can make a president invincible . . . before sinking him. Lyndon Baines Johnson won by a landslide at the height of the Vietnam War, then bowed out of the 1968 election early, having lost control of his own party. George H.W. Bush's approval ratings were just shy of 90 percent after launching the first Iraq War; they then dipped as low as 29 in 1992 when the fight was over. His son, George W., experienced a similar ordeal: he broke 90 percent after the September-11 attacks, just before his approval cascaded downward and he became a national punch-line in his second term. And "Dubya" might be the last president to achieve unanimous adulation, however fleeting.
After years of relative peace for the American empire, Trump was challenged in the final year of his term with a crisis of Biblical proportions—a plague from the Far East that brought the world to its knees. Politically speaking, this was a gift, if he were only willing to unwrap it. Trump achieved his highest approval ratings in the first half of May 2020—49 percent—weeks after he had officially declared the Coronavirus a national emergency. Great stress brings out "animal instincts"; people desperately want to "follow the leader." At that moment, Trump was, at least potentially, poised to transcend polarization.
For all of the shrill talk about Trump being a "fascist," the reality is that Benito Mussolini would have relished the chance to mobilize the nation under "pandemic socialism." And if Trump governed more like a fascist—perhaps donning a knightly hazmat suit during press briefings—he would have a much better chance of being re-elected.
No leader on Earth has paid a political price for "overreacting" to Coronavirus—even if some have, indeed, overreacted. Dr. Anthony Fauci, who has consistently urged lockdowns, has had an approval rating in the mid-to-upper 60s on his handling of the pandemic—double that of Trump. The nation was clearly begging to be given marching orders by a strongman.
Trump, for his part, chose the "power of positive thinking," a uniquely American form of Christianity articulated by Norman Vincent Peale, a minister who presided over Trump's first wedding. Trump's response to Coronavirus will forever be remembered by his claims that it was a "Democrat hoax," that it will go away in the spring "like a miracle," various goofy proposals for instant cures, and his fretting over the health of the Dow Jones Industrial Index. By October, Trump was losing seniors—those most vulnerable to Covid-19—by 10 points in the all-important state of Pennsylvania. Voters over the age of 65 would seem to be the natural constituency of any conservative; 65 percent of them voted for Mitt Romney in 2012. Yet in 2020, "the olds" have a voting profile much like their self-centered, left-wing grandchildren.
Trump is one of the only presidents in recent memory to declare himself a "nationalist," and he has evoked the prewar slogan of "America First!" But in the end, his "nationalism"—whatever it might mean in practice—is a minority political position. It is undoubtedly popular with GOP diehards—Trump's approval among Republicans is rising to 95 percent—but it is simply not a governing ideology. The country is headed in a very different direction.
4. Projecting the House
The 2018 Midterms amounted to a "wave" election for the Democrats, though one obscured by the final result: a split government with the Republicans increasing their lead in the Senate. That year, the Democrats achieved a net gain of 41 seats in the House, which put the victory on par with two iconic Republican "waves" of recent history: the 1994 "Revolution" (net gain of 54) and the 2010 "Tea Party" (net gain of 63). Remarkably, the 2018 "Blue Wave" was greater than those two, at least as measured by the popular vote margin. Yes, all politics is local—especially in the House—but if the 2018 Midterms were treated like a national referendum, then the Democrats had a nine-point advantage over the Republicans, matching Biden's 2020 advantage over Trump.
The '94 and 2010 Midterms birthed new heroes in the persons of Newt Gingrich and Paul Ryan, two pompous and nerdy libertarians. The impeachment of President Bill Clinton, the consolidation of the Religious Right as a reliable bloc, endless prattle about budgets, and various government shutdowns marked the terms of both speakers in this "Red Era" of Congress. It's difficult to think of any legislative achievements. No examples come to mind.
Recent Democratic gains in the House, on the other hand, brought us Alexandria Ocasio-Cortez and the so-called "Squad"—all of whom immediately became stars and generated friction with the centrist leaders of the House and Senate, Nancy Pelosi and Chuck Schumer. Biden, too, is running as a centrist, the man who, as he brags, "beat the socialists" and will revive a globally oriented foreign policy. Whereas Republican presidents were generally aligned with popular energies in the parties, Biden is already at odds with them. He may be the last Democratic standard-bearer to promise, "Nothing will fundamentally change." Regardless of Biden's expectations, creative and paradigm-shifting policy ("The Green New Deal," being a perfect example) will begin flowing out of the Democratic House.
5. Projecting the Senate
In 2018, Fortuna looked fondly upon Republicans. That year, only eight of their 51 seats in the Senate were in play, whereas the Democrats had 23 of 49. Republicans seized the opportunity—and the recent confirmation of Amy Coney Barrett would not have been possible were it not for the lucky hand they were dealt.
In 2020, Republicans face the inverse of the happy situation last cycle. They have 23 seats up for election, while the Democrats have only 12. And it gets worse. Among the Democrats' 12 seats in jeopardy, only one is likely to be lost—Doug Jones's perch in Alabama, which was acquired in a bizarre special election against Christian fundamentalist Roy Moore. In 2020, Alabama will likely send Republican Tommy Tuberville, the old Auburn football coach, to the U.S. Senate.
Of the Republicans' 23 seats that are up for election, eight are considered "tossups," and, in the cases of Martha McSally in Arizona and Cory Gardner in Colorado, likely losses. Seats that should be solid are now in play, such as Joni Ernst in Iowa and Lindsey Graham in South Carolina, both of whom seem to be dragged down by their close association with Trump. Graham's unlikely challenger, Jamie Harrison, has raised more money than any other Senate candidate in U.S. history (upwards of 85 million). For Republicans, there are simply too many signs that too many things are going wrong.
A base-line expectation for the Democrats would be to lose Alabama and keep 46 of their current 47 seats; this would roughly maintain the status quo. The Republicans should reasonably hope to maintain their 15 "safe" seats; however, they should expect to lose between four and five, that is, half of the toss-ups. In that scenario, they would lose control. Normally, the re-election of a party's incumbent president means a rising tide. But this is not a normal year. The Republicans should lose five seats, and on November 4, 2020, the Democrats will gain control of the Senate, 51/49.
6. "Ignore The Polls, Bro"
But wait—weren't all polls wrong in 2016? It's a common refrain you hear from Trump fans. It also harkens back to 2012, when Republicans were similarly confident that polls weren't capturing Mitt Romney's support—a contrarianism that led Karl Rove to engage in embarrassing displays of delusion and denial when the results came in.
The short answer to the question "Weren't the polls wrong?" is "no." The full story is more complicated.
Trump's entrance onto the political scene in 2015 was a watershed in that traditional metrics and punditry, which had worked so well in previous elections, failed spectacularly to understand his popularity over the course of the next 18 months. Much like Ron Paul in 2008, Trump was "the candidate from the Internet": he activated a base that was increasingly getting news from social media, and not from network or cable television. That included Fox News, which, we shouldn't forget, opposed Trump's ascendancy throughout 2015.
Trump simultaneously developed a cult following among younger and more activist men and women, who liked him precisely for his combative personality and because he waged war against the Republican establishment. This was the "Alt-Right," in its broader and more nebulous form. From the outset, it was demeaned by the mainstream media as a gaggle "Internet trolls" and even "bots." But Trump's digital engagement was very real.
Social Media Engagement
In late 2015, Nate Silver of FiveThirtyEight infamously wrote "Dear Media, Stop Freaking Out About Donald Trump's Polls":
For my money, that adds up to Trump's chances being higher than 0 but (considerably) less than 20 percent. Your mileage may vary. But you probably shouldn't rely solely on the polls to make your case
A strange statement coming from a man whose career is based on aggregating polls. Over the course of the nominating process, Silver and other psephologists assured the public that Trump was a sideshow. Plugging historical precinct figures, campaign finance data, and political endorsements into their algorithms to "weight the polls," they put Trump at the bottom of the pack. Jeb Bush was the likely nominee, with Marco Rubio, the possible upset candidate.
2016 Republican Fundraising
Absent from these prediction formulas were rally attendance numbers, social media engagement, and organic—rather than media-manufactured—public interest.
Trump dominated Internet search queries throughout that early, decisive period in his political career.
A Trump supporter might, on two days' notice, take time off work to drive three hours for a chance to get inside a sports stadium for a Trump rally—and face a very real chance of being kept outside on account of the venue reaching maximum capacity. Jeb Bush, on the other hand, had difficulty filling up an elementary school classroom, not to mention getting people to clap. Yet this patent disparity in intensity was thought by the experts to be electorally insignificant.
Usually, when a state politician endorsed a candidate ahead of a caucus or primary, tens of thousands of people might hear about it—most often, days afterwards through secondhand media reports. But during Trump's rise, tens of millions of people would hear directly and instantaneously from Trump via social media platforms like Facebook and Twitter. It was not uncommon for people to be made aware of the endorsements of Trump's opponents from Trump himself. The conventional blessing of the political establishment had become the curse of "the swamp."
The big "miss" of the mainstream media came in 2015, when pundits dismissed Trump, despite his strong polling and measurable online engagement. 2016 was a different story; the polls weren't all that wrong. Nate Silver, for one, gave Trump a much better chance of winning the 2016 election than his contemporaries. The national popular vote total was actually well within the range of major polling predictions. The Real Clear Politics's average across 11 different polling companies showed Hillary Clinton winning the popular vote by 3.3 points; her actual margin of victory was 2.1. Most of the national polls were within the margin of error.
The breakdown in polling reliability (at least relative to the "boring" election night of 2012) occurred at the state level. Trump strongly outperformed his state-wide polls in Ohio, Wisconsin, Iowa, and Pennsylvania, which were key. But we should also remember that Hillary outdid exceptions in Nevada—despite most late-October polls suggesting a Trump surge.
Overall, Red states went redder than the polls predicted and, to a lesser extent, Blue states went bluer. The correlation between Trump's margin of victory and his over-performance relative to RCP polling at the state level was a staggering .63 (p-value = 0.0000002). Pollsters have learned lessons from their shortcomings in 2016. More importantly, even if all the 2020 polls were as "wrong" as those in 2016, Biden would still comfortably win the presidency. Mainstream polling is simply not fraudulent. And the move towards Democratic hegemony is seismic, not a result of the latest news cycle. Trump pulled off an amazing upset in 2016, but demographics and attitudinal changes forecast a new Blue Period in American politics, a process that began well before the nomination of Joe Biden.
7. New Blue
Trump's victory and inauguration was a winter of discontent for the American Left: scenes of crying, shock, hysteria, wailing, and gnashing of teeth filled the news outlets and social media feeds across the country.
Noooooo!
But perhaps they shouldn't have been so bent out of shape. In 2016, Hillary Clinton received almost three million more votes than Trump (roughly 65.8 million to 63), and many overlooked that the Democrats actually gained seats in the House and Senate. Since 1992, Democrats have won the popular vote in six of the last seven presidential elections. Both Trump and George W. Bush relied on the idiosyncrasies of the Electoral College—and, with Bush, the Supreme Court—to secure their first terms. On the whole, America is a left-wing country by any reasonable measure.
In the 20th century, the Democrats were the party of hegemony. For six decades after Franklin Roosevelt's election in 1932, Congress was effectively a one-party body. Between the 73rd Congress of 1933 and the "Republican Revolution" class of 1995, Democrats controlled 28 of the 31 Congresses, losing to the Republicans only briefly in 1947-49 and 1952-3 and enduring a split in 1985-86.
Party Control of Congress, 1933-2019
For better and for worse, the Democratic Party is responsible for every lasting policy paradigm, from the New Deal to the Great Society to Civil Rights to Immigration Reform. The last notable policy initiative of either party was The Affordable Care Act ("Obamacare") of 2009, which, again, was achieved when the Democrats had control of both Houses.
Party Share of the House of Representatives
Party Share of the Senate
The quarter century since Republicans took the House in the 1994 can be thought of as the "Red Era." The Republicans' share of Congress has increased from some 25 percent in the early 1930s to over 55 percent in the past few classes. Republicans have held both Chambers seven out of twelve election cycles, and held onto to one chamber ten out of twelve. Democrats, as mentioned, were only in full command for two years during Barack Obama's first term.
Republican Share of the House of Representatives
Republican Share of the Senate
Since realignment in the 1960s, Republicans progressed, slowly but surely, from being an "also ran" and regional party to a majority one . . . yet it's questionable whether they were ever a governing one. Outside of tax cuts, cantankerous complaining, and vague calls for "limited government," Republicans seem to have no clue of what to do with power once they capture it, much like a dog chasing after the mail man. The GOP has certainly been popular, but it has clearly lacked the intellectual resources to be a truly national party.
As the Red Era took shape, the margins of dominance in Congress (by either party) have progressively shrunk, approaching an even split. The "Red Era" has been one of deadlock, obstruction, back-and-forth, and scarcity of visionary leadership.
Margins of Dominance in House and Senate
You could argue that as margins in Congress are tightening—and polarization becomes more intense—we should prepare ourselves for exchanges of power between the two parties every cycle. But I expect something quite different to emerge—long-range domination of Congress and the presidency by the Left moving forward. The Democrats might never achieve the supremacy of the FDR coalition, but they will set the agenda for the next quarter century: Medicare For All, Universal Basic Income, and "woke" policies beyond our imagination will become possible.
8. Is Diversity Destiny?
Pronouncements about America's "changing demographics"—or about how "diversity is destiny"—are now so commonplace as to be clichés. The built-in assumption is that demographic realities doom the GOP—the mono-racial "White Party" within the American rainbow. But it's important to put that into perspective. In Texas, Whites reached minority status 20 years ago, and the state remained a keystone of the Red Era throughout that time. So, theoretically, Republicans could continue to win elections as the "White Party": the home of "legacy Americans" and those who aspire to be like them.
What is decisive is that the Democrats, and not the Republicans, have constituted themselves as a hegemonic entity for the 21st century. The largest demographic group now entering the Democratic Party is not Hispanic immigrants but White suburban professionals. The Left is thus home, not only to urban African-Americans, but the "New Class" of corporate and financial managers. While the conservatives are downright proud of the absence of cultured snobs and intellectuals in their ranks, the Democrats have long been the party of thinkers, artists, and dreamers. This new Blue grouping that is emerging might seem "contradictory"—but you could say the same about FDR's New Deal coalition, which brought together the urban poor, small farmers, eggheads, and Southern segregationists.
The Democrats are positioned to capture the forces of America's transformation, and govern the declining empire competently. The Republicans are still talking about their half-remembered dream of "American Greatness," and even that is fading into oblivion.
The major obstacle for Democrats is not demographics, surely, nor is it the lack of policy creativity, which will explode in the coming years. It is the fact that millions of White people who identify as "conservatives" and "real Americans" will view their hegemony as entirely illegitimate, and maybe evil. That is a nut the Left might not be able to crack.
Epilogue: Could Trump Actually Win?
Then again, my assessment could be wrong, at least in the short-term. And regardless, it's worth discussing how Trump could actually pull this off.
We can start with Joe Biden's personal limitations. The most common criticism of Biden heard from Republicans is encapsulated by Trump's nickname for him, "Sleepy Joe." Biden is "senile," they say, "incoherent," "stuck in his basement," "afraid even to step outside." Much of this is grounded in reality. Biden's bumbling, absent-minded speech patterns, and malapropisms are striking—though many of them are more charming than politically damaging. And American voters are likely to see Biden's personal quirks as a "feature, not a bug." As mentioned, Biden is quite popular among seniors, who can empathize with his "moments," since they have many of their own. Hillary Clinton was widely reviled, precisely because she comes off as Machiavellian, calculating, codified, and, in a funny way, over-prepared to be president. Uncle Joe, on the other hand, captures the sweet spot of benign goofiness. He's simply too guileless and folksy to be evil—unlike Hillary.
The second level of the "Sleepy Joe" argument is that, they say, his running mate, Kamala Harris, will be in charge—a suggestion she herself seemed to embrace. Though Harris is clearly more of a "woke feminist" than Joe could ever be, she was selected because, on policy, she is in the same centrist ballpark as Biden. In August, the Wall Street Journal reported, "As Kamala Harris Joins Biden Ticket, Wall Street Sighs in Relief." Harris opposes Medicare for All (after once supporting it), supports fracking (ditto), and, in a lecture to young people in Chicago instructed them to give up on their dreams and build more jails, not schools. Harris's initial campaign for the Democratic nomination was derailed when she was scolded by Tulsi Gabbard for being a draconian District Attorney. Harris hasn't helped the Biden ticket, but she has not seriously hurt it either. And if she does emerge as the éminence grise of the administration, it will be to pursue most of the same policies that Biden would.
The stronger argument in favor Trump is that all of the same forces of 2015, which we discussed above, are still in effect. Echoes of the Trump-Jeb rivalry have returned in 2020, as Trump continues to generate large crowds and religious-like devotion, while Biden hold "rallies" to audiences of a few dozen journalists. This has a lot to do with the pandemic; however, the "enthusiasm gap" is quite real. And it's not wrong to sum up the dynamic of 2020 as such: Trump supporters love Trump; Biden supports hate Trump. Can Biden pull off a victory on exasperated negativity alone—on his voters "settling" for him, as a relief from the other guy? We'll find out.
As mentioned, Trump is approaching an astounding 95 percent approval among Republicans, and, in a Pew Research poll in August, 66 percent of his supporters were strongly enthusiastic about voting for him. These are the types that attend rallies, post on Facebook, and talk about Trump tirelessly to their friends and co-workers. At the time, Biden's strong support was only at 46 percent. But over the past three months, enthusiasm for him has begun to rival conservatives' adoration of the president—perhaps as the Left's hatred of Trump reached levels previously thought impossible.
Intra-party support for each candidate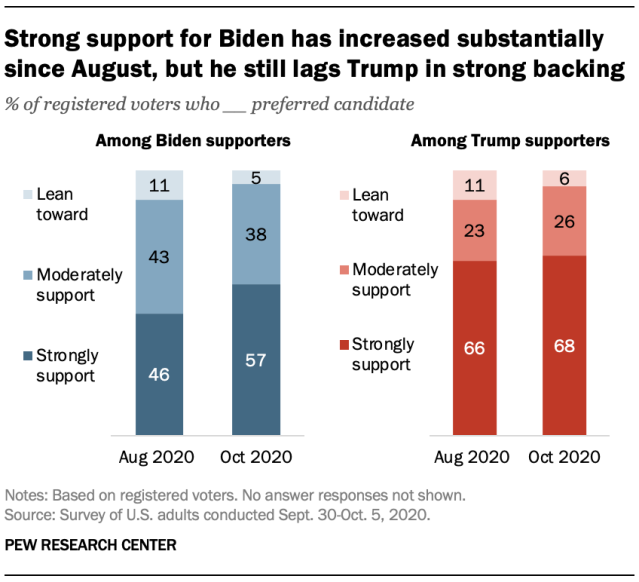 On social media, Trump remains miles ahead of Biden on active engagement, as we would expect. According to the New York Times:
In the past 30 days, Mr. Trump's official Facebook page has gotten 130 million reactions, shares and comments, compared with 18 million for Mr. Biden's page. . . . That is significantly larger than the engagement gap for the preceding 30-day period, when Mr. Trump got 86 million interactions to Mr. Biden's 10 million.
The same story goes for Twitter, Instagram, YouTube, and, especially, the new "alt" tech platforms like Bitchute and Parler.
Moreover, while polls are one thing, actual voting is another, and Trump has looked particularly stout on this front. No major Republican dared challenge him in the GOP primaries. And in New Hampshire, for example, he received 85 percent of the vote in the primary, building on his total from four years ago by 30 percent (from 100,000 to 129,000), despite the fact that these elections didn't seem to matter much. In other words, MAGA enthusiasts—and not necessarily Trump haters—are committed to trudging through a snowstorm to cast a ballot for their hero. That shouldn't be discounted.
There is also the potential for the activation of anxious—though "shy"—Trump voters. They aren't willing to announce themselves to pollsters, and they might cast ballots on the basis of angst over the Black Lives Matter protests, which flared up over the summer and have resulted in looting, violence, and demonization of the police.
Princeton academic Omar Wasow has studied the major protest movements of the 1960s and their impact on presidential elections.
In 1964, Republican presidential candidate Barry Goldwater promised "law and order" against "crime in the streets" but lost in a blowout to President Johnson, a champion of civil rights . . . . By 1968, though, the tide had turned and Republican presidential candidate Richard Nixon successfully marshaled a "tough on crime" campaign to help win the White House.
What happened in the four years between Goldwater and Nixon? For one thing, the protests became more violent, particularly in the wake of the assassination of Martin Luther King. Wasow marshals county-by-county data and concludes that in 1968, localities that were proximate to non-violent protests tended to vote more liberally (that is, for Hubert Humphrey) than they might otherwise have. When Wasow looked at counties that were exposed to violent protests, Nixon tended to gain some two percent points. In various counter-factual scenarios, Wasow suggests that Humphrey would have likely won the election of 1968 were it not for the reaction to the violent protests. Such social-science modeling re-enforces gut instincts: when people see crime, chaos, and racial hatred, they turn to symbols of authority, whether that be incumbents or the candidate viewed as the most right-wing.
In the summer of 2020, violent protests occurred throughout the swing states of Georgia, Michigan, Pennsylvania, and Texas. And though these have cooled down of late, "Antifa," "Defund the Policy," and "BLM" have become household terms—and violent images of mayhem and destruction have been broadcast across the globe. Might we see a similar "Nixon effect" in 2020—one that is even more pronounced this time due to the virtual "proximity" created through social media? This prospect, too, should not be discounted.
That said, Trump's path to victory remains the same: an Electoral College squeaker, which would drive liberals into conniption fits. And we shouldn't forget how close it was four yeas ago. A Donald Trump victory in 2020 remains just as possible/impossible as it was in 2016. I would be remiss to count Trump out, though I don't expect to be proven wrong.